Strip tease court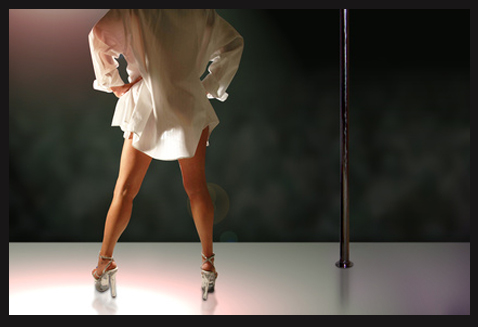 Create in Paris in the late nineteenth century and developed in the United States during the 50's, the strip-tease sometimes tortuous paths taken before returning an artistic discipline, elegant and varied as we know it today. The Crazy Academy now offers various information about the strip tease including:
Lap Dance Education: made in strip clubs, is a close dance, including contacts between the viewer and the "Lap-dancer". The lap-dancer sits on the viewer and assimilated by Frottana undresses him.
Table Dance Education: made in strip clubs, takes place on the table of the spectator. This dance does not involve contact, but made at a reduced distance of the viewer.
Pole Dance Education: is practicing with a vertical bar that even if it takes place in box striptease has nothing to do with the strip-tease. Pole Dance Training fits perfectly for those wishing to combine the practice of a physical sport than a striptease.
Neo-Burlesque Education: a perfect candidate for the character drama, it portrays go through the story funny and sexy with dancer-like pin-ups. The training is distinguished neo-burlesque striptease leave the tricks used by the dancers.
A vocation for the striptease, or a sudden urge to spice up your love life?
The Academy is Crazy to answer your questions about training striptease stripping and training.
-
Find a Strip-tease School